| | |
| --- | --- |
| Standard | Basic Rate/USD |
| 1-200 Items | $0.85 |
Included free
Receiving
Inspection for Damage
Price Sticker Removal
FNSKU Labeling
Poly Bags
Dunnage
Expiration Date Check
Damaged Item Handling
07 days of Inventory Storage
Box handling
Photograph for damage items
Waste Disposal 
| | |
| --- | --- |
| Add on  | Rate/USD |
| Box- Small 12″ | $2.00 |
| Box- Medium 18″ | $3.50 |
| Box- Large 25″ | $5.20 |
|   Polybag < 15″ | Included |
|   Polybag > 15″ | Included |
|   Polybag > 24″ | Included |
| Inception for return/Item | $0.50 |
| Shrink Wrap/Ft | Included |
| Bubble Wrap/Ft | Included |
| Other filler material | Included |
| Handling charges for oversize box | $0.50 |
Bundle Cost -Standard Item
Bundle cost – $/bundle ( 1 to 5 units)
$0.33
Bundle cost – $/bundle (6 to 9 units)
$1.30
Bundle cost – $/bundle (>10 units)
$2.75
| | |
| --- | --- |
| Bundle Cost -oversize Item | |
| Bundle cost – $/bundle ( 1 to 5 units) | $0.45 |
| Bundle cost – $/bundle (6 to 9 units) | $1.95 |
| Bundle cost – $/bundle (>10 units) | $3.25 |
| | |
| --- | --- |
| Silver | Basic Rate/USD |
| 201-999 Items | $0.82 |
Included free
Receiving
Inspection for Damage
Price Sticker Removal
FNSKU Labeling
X
Dunnage
Expiration Date Check
Damaged Item Handling
14 days of Inventory Storage
Box handling
Photograph for damage items
Waste Disposal 
| | |
| --- | --- |
| Add on  | Rate/USD |
| Box- Small 12″ | $2.00 |
| Box- Medium 18″ | $3.50 |
| Box- Large 25″ | $5.20 |
|   Polybag < 15″ | $0.33 |
|   Polybag > 15″ | $0.40 |
|   Polybag > 24″ | $0.50 |
| Inception for return/Item | $0.50 |
| Shrink Wrap/Ft | $1.95 |
| Bubble Wrap/Ft | $0.65 |
| Other filler material | $0.13 |
| Handling charges for oversize box | $1.00 |
| | |
| --- | --- |
| Bundle Cost -Standard Item | |
| Bundle cost – $/bundle ( 1 to 5 units) | $0.33 |
| Bundle cost – $/bundle (6 to 9 units) | $1.30 |
| Bundle cost – $/bundle (>10 units) | $2.75 |
| | |
| --- | --- |
| Bundle Cost -oversize Item | |
| Bundle cost – $/bundle ( 1 to 5 units) | $0.45 |
| Bundle cost – $/bundle (6 to 9 units) | $1.95 |
| Bundle cost – $/bundle (>10 units) | $3.25 |
| | |
| --- | --- |
| Gold | Basic Rate/USD |
| 1000-5000 Items | $0.82 |
Included free
Receiving
Inspection for Damage
Price Sticker Removal
FNSKU Labeling
X
Dunnage
Expiration Date Check
X
14 days of Inventory Storage
Box handling
Photograph for damage items
Waste Disposal
Extra charges for box>25lb
| | |
| --- | --- |
| Add on  | Rate/USD |
| Box- Small 12″ | $2.00 |
| Box- Medium 18″ | $3.50 |
| Box- Large 25″ | $5.20 |
|   Polybag < 15″ | $0.33 |
|   Polybag > 15″ | $0.40 |
|   Polybag > 24″ | $0.50 |
| Inception for return/Item | $1.00 |
| Shrink Wrap/Ft | $1.95 |
| Bubble Wrap/Ft | $0.65 |
| Other filler material | $0.13 |
| Handling charges for oversize box | $1.50 |
| | |
| --- | --- |
| Bundle Cost -Standard Item | |
| Bundle cost – $/bundle ( 1 to 5 units) | $0.33 |
| Bundle cost – $/bundle (6 to 9 units) | $1.30 |
| Bundle cost – $/bundle (>10 units) | $2.75 |
| | |
| --- | --- |
| Bundle Cost -oversize Item | |
| Bundle cost – $/bundle ( 1 to 5 units) | $0.45 |
| Bundle cost – $/bundle (6 to 9 units) | $1.95 |
| Bundle cost – $/bundle (>10 units) | $3.25 |
| | |
| --- | --- |
| Platinum | Basic Rate/USD |
| > 5000 Items | $0.76 |
Included free
Receiving
Inspection for Damage
Price Sticker Removal
FNSKU Labeling
X
Dunnage
Expiration Date Check
X
X
X
Photograph for damage items
Waste Disposal
Extra charges for box>25lb
| | |
| --- | --- |
| Add on  | Rate/USD |
| Box- Small 12″ | $2.00 |
| Box- Medium 18″ | $3.50 |
| Box- Large 25″ | $5.20 |
|   Polybag < 15″ | $0.33 |
|   Polybag > 15″ | $0.40 |
|   Polybag > 24″ | $0.50 |
| Inception for return/Item | $1.95 |
| Shrink Wrap/Ft | $1.95 |
| Bubble Wrap/Ft | $0.65 |
| Other filler material | $0.13 |
| Handling charges for oversize box | $2.00 |
| | |
| --- | --- |
| Bundle Cost -Standard Item | |
| Bundle cost – $/bundle ( 1 to 5 units) | $0.33 |
| Bundle cost – $/bundle (6 to 9 units) | $1.30 |
| Bundle cost – $/bundle (>10 units) | $2.75 |
| | |
| --- | --- |
| Bundle Cost -oversize Item | |
| Bundle cost – $/bundle ( 1 to 5 units) | $0.45 |
| Bundle cost – $/bundle (6 to 9 units) | $1.95 |
| Bundle cost – $/bundle (>10 units) | $3.25 |
FMB – Fulfilled by Marchant
Our FBM rate vary from $2.7/item to 3.7/item based on the size and weight of the product
Contact us for more information
Policy for return and damage Products
We will take photos of the damaged products and communicate with you on how you would like to proceed. The most common choices are to have the products returned to you or to dispose or donate them.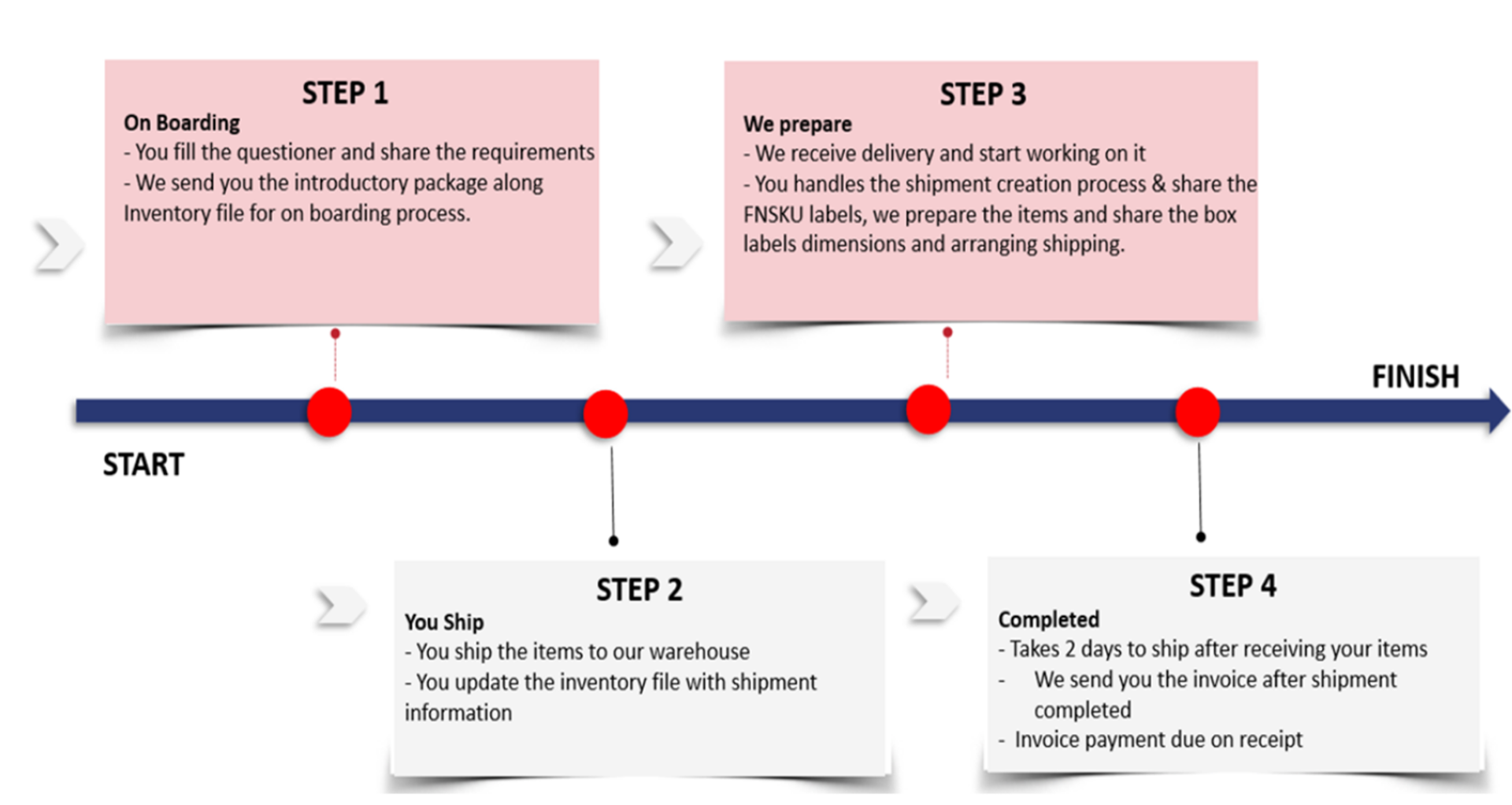 Would you like to have our services?
We would love to help you in managing your inventory. Join us Now and Enjoy amazing discounts and avail unbeatable offers. To learn more, feel free send us an email to info@gpwarehousing.com or contact us.
Whether your compnay is based outside or inside the U.S. and you needs a PICK, PACK SHIP services without your physical presence in US, we can defiantly help you.
Contact us, our team will help you at each step from shipping rules, US product regulation to customers demands. We offer a simple billing process without any long-term commitments, and made payment methods that make it convenient for you.
We seamless communication you can monitor your orders and manage inventory from anywhere, at anytime
Please do not hesitate to contact us.
26077 Nelson way, Unit#1407, Katy, 77494, Tx